Tips & Tricks On How To Decorate Your Bedroom
|
A bedroom is considered a very important part of your house where you spend your time with you or with your partner. It must be decorated in a way that it should give a feel of ease and comfort. Different people have different choices, some want to design their bedroom with dark colors whether some like light and bright colors. Here are some of the amazing ideas on how to decorate your bedroom within a short budget.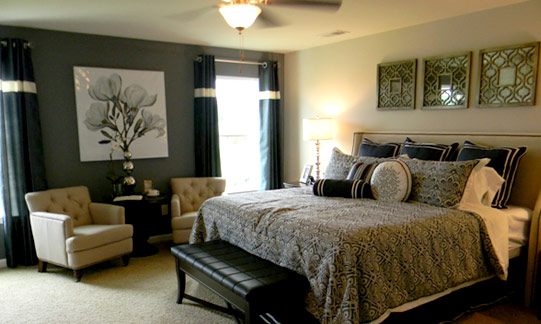 It feels really bad when you get out of the bed and your feet touch the cold floor. You can use a small rug or carpet in your bedroom. It looks nice and cozy.
Theme plays a major role in bedroom decoration. Bedroom having specific combination or contrast with matching furniture and curtains looks lavish and trendy.
Throw pillows must be designed in a way that they show harmony with the design of your bed. Sumptuous throw pillows give a very enchanting look to your bedroom.
You must have a corner in your bedroom that is aimed for sitting only. You can put a sofa or chair just after your room window where you can watch stars in night or listen music, read book or talk to your partner.
There must be no phone or computer in your room because it will disturb you sleep. You can place a lamp or creative lighting in your room to give an artistic look.
You can place a small flower pot, lamp, a jug of water with glass or a book on the side table of your bed. They depict a very relaxing atmosphere.
Curtains of your bed room must of good fabric that they could cover the windows completely. Curtains must match the carpet or throw pillows as a contrast.