How Do Home Security Alarm Systems Protects Us?
|
In modern age home security systems are installed as a protection against criminals or burglars. A home security system consists of alarms, cameras and sensors that can sense the presence of a burglar. Home security alarm systems containing sensors are preferred among all the security systems. Alarm is connected through signals or with a wire to the main control panel which generates alarm. Security system which is installed by wireless connection is more economical and easy to use.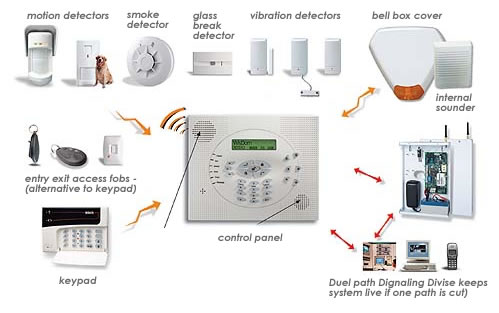 These alarm systems indicates the presence of somebody if the door was pushed, wrong keys were used to open the door and if somebody enters wrong password/ passcode. Alarm systems are purely designed against burglar attack. Multi-zoned computer system and monitoring devices are installed with these multi-tech alarm systems. An alarm system can be simple to complex according to the need of a person.
Home security alarm systems are connected to control panel or monitoring board. Whenever a burglar tries to open a window or door or step in the house, alarm system sense his presence and generate alarm and in the same time make a call to the police department or to the responsible authority. Alarm system can also make call to the owner of the property to verify whether the alarm is genuine or not.
By installing an alarm system in your home you can secure your sentimental items and valuables which can never be returned from an insurance company. You can live a peaceful life without having any tension regarding the security of your house and you can leave your house without thinking about the protection of your house. A security system monitors your house in day and night.