Soaking in Style: The Latest Trends for Your Bathroom Renovation
|
Are you planning to renovate your bathroom and looking for some inspiration on bathtub styles and more? Look no further as we bring you the latest trends in soaking in style! From luxurious freestanding tubs to sleek built-in designs, we have it all covered. So, get ready to indulge in a relaxing soak while adding a touch of elegance and modernity to your bathroom with these stunning bathtub options. Let's dive into the world of chic bathing experiences!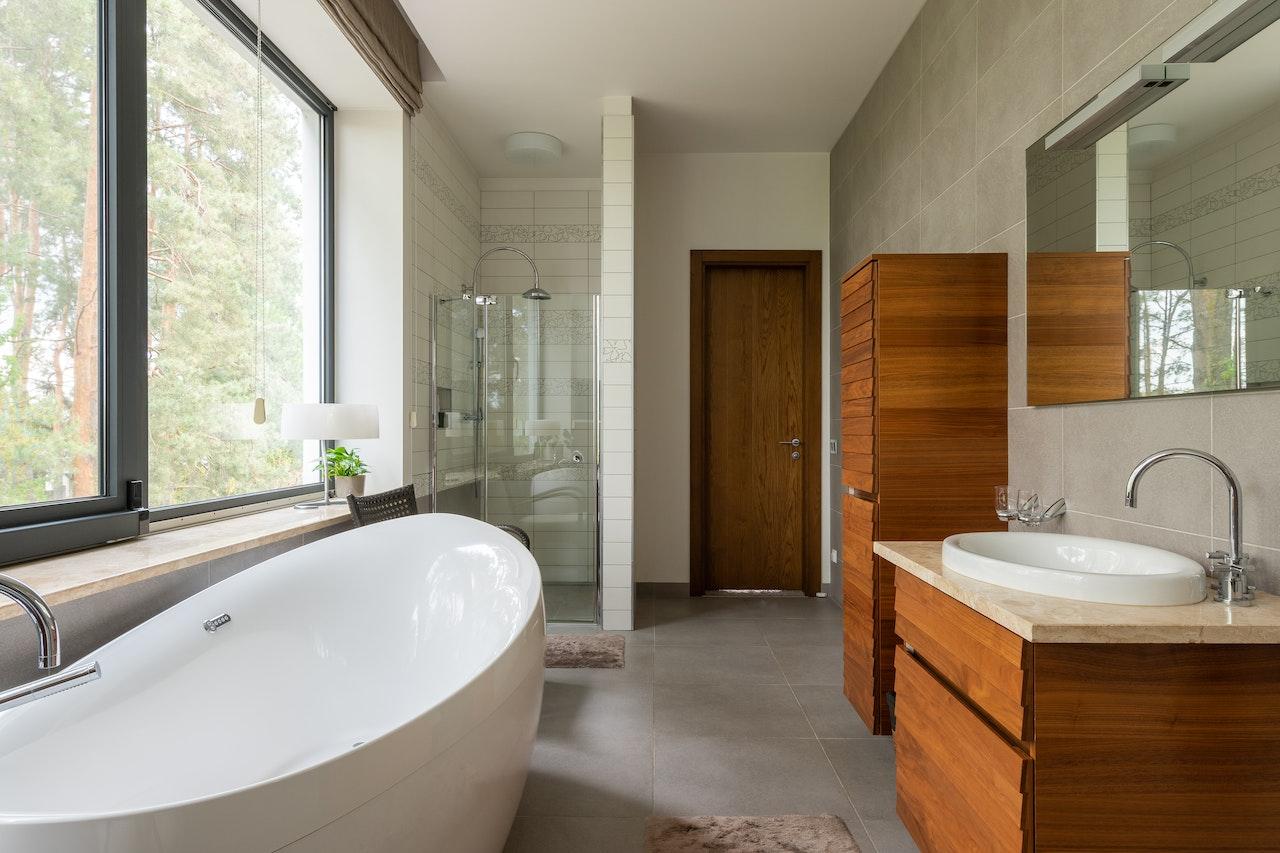 Introducing the Latest BathTub Trends
There's nothing like a relaxing soak in the tub after a long day. But if your bathtub is outdated or in need of repair, it can be anything but relaxing. If you're planning a bathroom renovation, consider upgrading to one of the latest bathtub trends. From sleek and modern freestanding tubs to luxurious whirlpool baths, there's a style to suit every taste and budget.
Here are some of the latest bathtub trends to consider for your bathroom renovation:
Freestanding tubs: Freestanding tubs are a popular choice for those who want a modern look for their bathroom. They come in a variety of shapes and sizes, so you can find one that fits perfectly in your space. And because they're not attached to the wall, they're easy to install and clean.
Whirlpool baths: If you're looking for a truly indulgent bathing experience, consider a whirlpool bath. These tubs have jets that massage your body as you soak, making them perfect for easing muscle aches and pains. Some even come with built-in heaters to keep you warm as you relax.
Soaking tubs: Soaking tubs are deeper than standard bathtubs, so you can immerse yourself completely in the water. They're ideal for those who enjoy taking long baths or for people with arthritis or other conditions that make
Benefits of Installing a New BathTub
When it comes to your bathroom renovation, there are many benefits to installing a new bathtub. Not only will you be able to enjoy the luxury of a new tub, but you'll also find that it can add value to your home and make your bathroom more functional.
Here are just a few benefits of installing a new bathtub:
Increase the value of your home – If you're looking to sell your home in the future, a new bathtub can definitely increase its value. Potential buyers will love the luxurious feel of a brand new tub, and it could be the difference between selling your home quickly or sitting on the market for months.
More enjoyable baths – There's nothing quite like soaking in a brand new tub after a long day. You'll be able to relax and enjoy your baths much more when you have a beautiful, comfortable place to do so.
Better functionality – Older tubs can often be difficult to get in and out of, especially if you have limited mobility. Newer tubs are designed with both style and function in mind, so you won't have any trouble getting in and out of yours.
Choosing a Mirror for Your Bathroom Renovation
When choosing a mirror for your bathroom renovation, there are a few things to keep in mind. First, consider the size of the mirror. You'll want to make sure it is large enough to reflect your entire bathroom, but not so large that it overpowers the space. Second, think about the shape of the mirror. Do you want a traditional rectangular mirror, or something more unique? Third, decide what type of frame you want for your mirror. There are many different styles to choose from, so take your time and find one that fits with the overall look of your bathroom. Finally, don't forget to Hang Your Mirror at the Right Height! The goal is to have the center of the mirror be at eye level, so use a tape measure to find the perfect spot on your wall before you drill any holes.
Essential Tips for Choosing the Right Flooring
When it comes to choosing the right flooring for your bathroom renovation, there are a few things you need to keep in mind. Here are a few essential tips to help you choose the perfect flooring for your new bathroom:
Consider your budget.
Flooring can be one of the most expensive aspects of a bathroom renovation, so it's important to consider your budget when making your selection. There are a variety of flooring materials available, so be sure to compare prices before making your final decision.
Choose a material that is durable and easy to clean.
Bathrooms are high-traffic areas, so it's important to choose a material that can withstand the wear and tear of daily use. Additionally, you'll want to choose a material that is easy to clean and maintain. Tile and stone are two good options that meet both of these criteria.
Consider the style of your bathroom.
Your flooring choice should complement the overall style of your bathroom. If you have a traditional-style bathroom, for example, you might want to select classic tile or stone floors. Conversely, if you have a more modern-style bathroom, you might want to consider sleek and contemporary floors made from materials like concrete or glass tiles.
Adding Floating Shelves to Your Bathroom Design
If you're looking to add a touch of luxury to your bathroom, floating shelves are a great way to do it. Not only do they give the room a more sophisticated look, but they can also be used to store toiletries and other items out of sight. Here's a step-by-step guide to adding floating shelves to your bathroom design:
Decide where you want the shelves to go. They can be placed above the sink or toilet, or on either side of the mirror.
Measure the space and cut the shelf boards to size.
Install brackets on the wall using screws or adhesive strips.
Place the shelf boards on the brackets and secure them in place.
Add any finishing touches, such as paint or decals, if desired.
Budget Friendly Ideas for a Stylish Bathroom Renovation
If you're planning a bathroom renovation, you might be wondering how to make your space both stylish and budget-friendly. Luckily, there are plenty of ways to renovate on a budget without sacrificing style. Here are some ideas to get you started:
-Paint your walls a fresh, new color. This is an easy and inexpensive way to completely transform the look of your space.
-Update your hardware. Replacing old, outdated hardware with new pieces can give your bathroom a whole new look.
-Invest in quality towels and linens. Splurging on these items will make your bathroom feel more like a luxury spa than ever before.
-Add some greenery. Plants add life to any space, and they can also help improve the air quality in your bathroom.
-Change up your lighting. Installing new light fixtures or even just changing out the bulbs can brighten up your space and give it a whole new vibe.
Conclusion
Bathroom renovations can be tricky, but with the right bathtub and styling, you can create a space that is both stylish and functional. We hope this article has given you some inspiration on the latest trends in bathroom tubs and helped you find the perfect addition to your home. With so many options available nowadays, it's easy to create an aesthetically pleasing yet practical bathroom design that will elevate your home from ordinary to extraordinary!